The purpose of the Dialogic Pedagogy Journal is to advance international scholarship and pedagogical practice in the area of dialogic pedagogy. The journal is multidisciplinary, international, multi-paradigmatic, and multicultural in scope. It is accepting manuscripts that present NEW and/or significantly expanded previous scholarship that addresses the dialogic nature of teaching and learning in formal institutional and informal settings. The relationship between pedagogy and dialogue should not be limited to or defined by any particular institutions, specific settings, age of the participants, or fields – new visions and insight on particular tensions can arise from debates among paradigms, practices, and events, and DPJ supports diverse, sometimes even oppositional positions. Hence, we encourage any research scholars and practitioners with an interest in dialogue and pedagogy to submit articles for editorial consideration. More...
---
Editor-in-Chief: Eugene Matusov; Deputy Editors: Ana Marjanovic-Shane,  Mikhail Gradovski; and Olga Shugurova. See also Editorial Team
2022-02-01
Dear Colleagues,
We invite you to join the Dialogic Pedagogy journal (DPJ) Editorial Board. According to our policies (https://dpj.pitt.edu/ojs/dpj1/Organization),  we are issuing an annual call to all the registered members of the DPJ community to self-appoint to the DPJ Editorial Board for the 2023 term.
The DPJ Editorial Board is an open group of colleagues interested in Dialogic Pedagogy practice and research committed to acting toward these interests. You can join DPJ Editorial Board or leave it according to your current interests, needs, availability, and current circumstances. If you want and can commit, please fill out the Google form of self-appointment to the 2023 Editorial Board. Please let us know if you want to serve on the DPJ Editorial Board this year – 2023! (Read More).
Vol. 11 No. 2 (2023): Dialogic Pedagogy and Democratic Education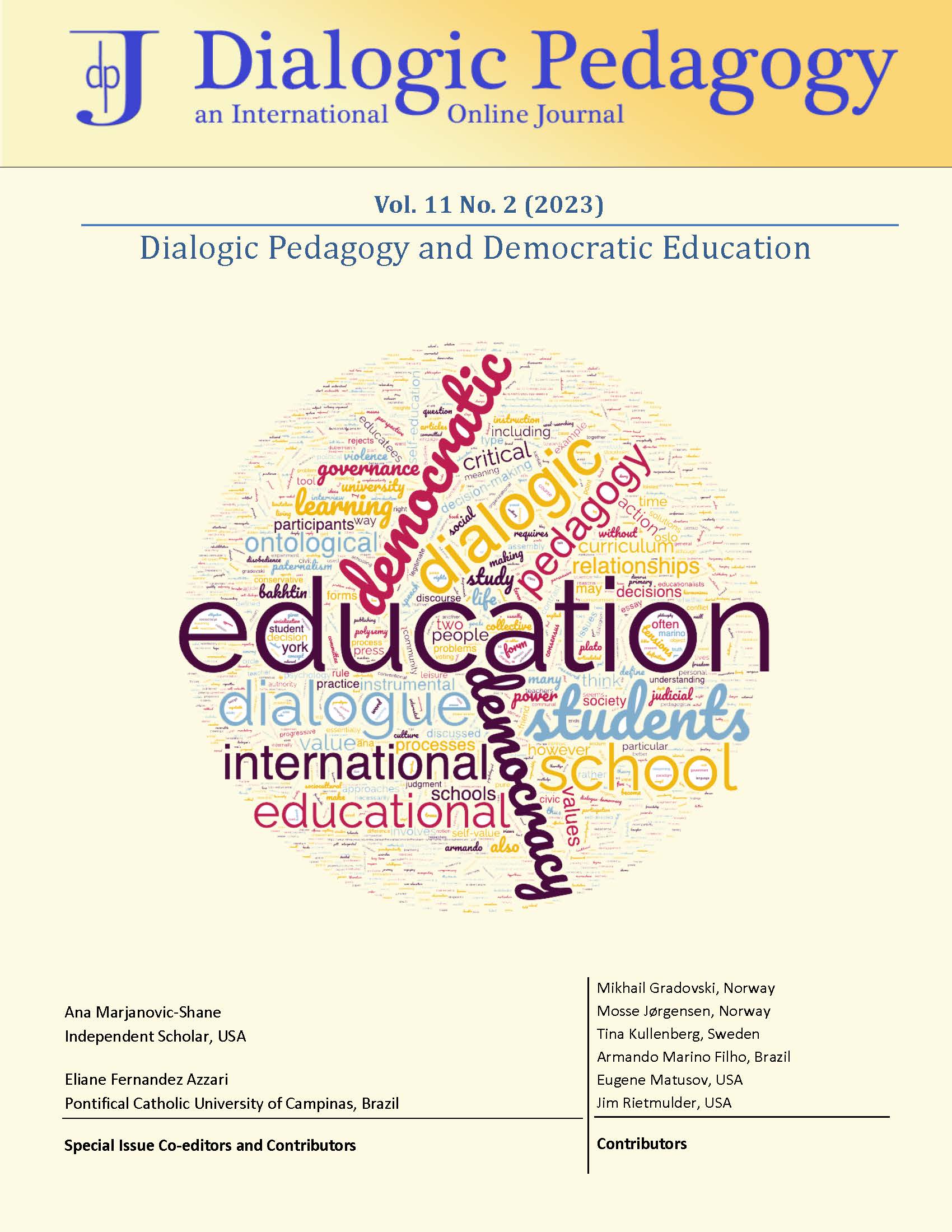 In democratically run schools, democracy is viewed as the best form of collective, communal, or societal life and decision-making that has a super important self-value: it is not so much a curriculum as it is in Democratic Education as civic education, not an instruction as it is Democratic Education for democracy, not an educational tool as it is in Democratic Education as a problem-solving method for social problems... [T]here is the recognition by all participants that each student is the final authority for their own education, if not life. 
For dialogue, democracy is a political regime of dialogue. Democracy assures that dialogue is voluntary, non-participation is legitimate, the participants define the topics of dialogue, the ownership of dialogue (and life) belongs to its participants, freedoms, rights, and so on. For democracy, dialogue is critical deliberation... Dialogue can reveal and legitimize the existing and emerging tensions and prevent violence. Dialogue humanizes democracy.  (Excerpts from Matusov, (2023). "Relationships between Democratic Education and Dialogic Education: Conclusion")
Published: 2023-01-19
View All Issues